The 2010 season
The year 2010 marked the first post-restoration season for the GERD. From the very first regatta, one fact was clear: The main challenge now consisted of putting together a crew that would stick to the task at hand!
However, the season was unfortunately too far underway – Thomas Behrend had only begun recruiting the crew in April. The consequence of this were extremely inconsistent regatta results: An X place at the Cup regatta, a Y place during the International Lake Constance week and a Z place at the Harder Cup.
But, then came the turnaround: An A place at the 31st King Ludwig Cup and a B place at the Starnberg Gold Cup.
Success with the right crew
It was only first in August 2010 – perfect timing for the Europa Cup – that the crew consisted of:
Helmsman: Julian Schunck
Grinder 1: Thomas Behrend
Grinder 2: Stefan Theer
Foredeck: Martin Rosenberger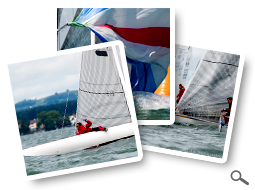 And now there were eight race courses with 37 opponents to face. Although the results proved to be still very mixed during the first competitions, with time the team of the GERD were gradually forged into one unit. At the last three competitive events, the team took the 1st-2nd-1st places.
The end results could scarcely have been better: the GERD became the European Champion runner-up! The crew was only forced once to concede defeat against the two-times European Champion Mike Rösch – clearly their superior in terms of sailsmanship.
The next success didn't keep them waiting long: The crew of the GERD emerged as winners at the Bernbacher Cup in Starnberg, Germany.
The dream had become reality:
GERD – "The fastest 30 m2 ever"
Regatta results in 2010
| | |
| --- | --- |
| Cup Regatta | 12th place |
| Lake Constance week | 7th place |
| Harder Cup | 8th place |
| Prinz Ludwig | 6th place |
| Gold Cup | 10th place |